Over the past three years, the world has been reeling from the shock of the Covid-19 pandemic, and we are now trying to navigate the 'new normal'. This represents an opportunity to develop a better future and rethink how we can all move forward together.
As the saying goes: "The best way to predict the future is to invent it". It is critical in this age and era that all enterprises place technology as their top priority so that they are not left behind. However, adopting drastically different mindsets and paradigms will be where true leadership will manifest itself.
Developments in the field of sustainability and innovation are moving fast. As a result, expectations of management and leadership are changing rapidly. Internal and external stakeholders' expectations are changing rapidly. The new leadership is complex, and systemic, but very relevant and inspiring!
The world is experiencing radical change, and leaders who can think boldly are needed to address it. Leaders now need to build the right sustainable, innovative environments and cultures and remove remaining organisational barriers that divide technology from the mission, so they are both moving forward as one.
A new breed of senior executives is required to drive organisations – Digital Sustainable Leaders. This masterclass will identify five key trends that leaders must address to transform their organisations in the next three years effectively.
The highly interactive session will focus on how to integrate sustainability in your leadership style and practices, digital people skills, transforming remote working and developing digital capability in your organisation. It has been designed to equip participants with an insight into the knowledge and practical skills required to proactively lead in the post-pandemic world.
Event Details:

Date:

23 March 2023 (Thursday)

Time:

9.00 - 11.00 AM (MST)

Venue/Mode:

Hilton Kuala Lumpur (In-person / Online)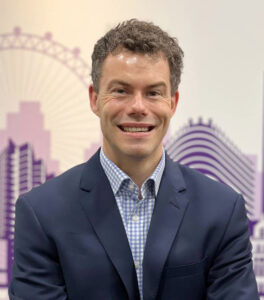 Stuart Wells
Executive Director, Client Relations
Executive Education, Alliance Manchester Business School (AMBS)
Stuart is a highly experienced Learning & Development Director and has over fifteen years' experience in the design and management of highly customised corporate education programmes.
He has designed and managed global customised executive programmes for some of the world's leading organisations including: BAE Systems, Bentley, Malaysia Digital Economy Corporation (MDEC), Intouch Holdings, NHS, Department for International Trade and British Chamber of Commerce.
Stuart joined executive education within Alliance Manchester Business School (Alliance MBS) in March 2015 as Head of Business Development. He is currently responsible for Client Directors and Business Development Managers focused on Executive Education, consultancy and sponsorship within Alliance Manchester Business School. The team work with a range of major corporate clients to understand their critical business challenges and organisational needs and develop and deliver customised learning solutions to help them address these.