Kuala Lumpur will become the 6th city in the world to host one of The University of Manchester's graduate workshops, positioning Malaysia as a key education destination

The programme incorporates blended learning with hands-on workshop residentials, live projects, and 20+ electives that can be studied abroad at Global Centres in Manchester, Dubai, Hong Kong, Shanghai, and Singapore

Students will become part of a vibrant community of experienced business professionals and corporate leaders encompassing more than 90 nationalities spanning various sectors
Kuala Lumpur, 8 September 2023 — The University of Manchester, the largest single-site university in the United Kingdom, has launched its Manchester Global Masters of Business Administration (MBA) Programme in Malaysia. Designed to develop business professionals across multiple industries, the two-year part-time programme can be tailored to fit various career trajectories and specialises in international experiential learning, a key element to producing competitive Malaysian business leaders with a socially responsible, global-first mindset.
The introduction of the Manchester Global MBA Programme on local shores makes Kuala Lumpur only the 6th city in the world to host one of The University of Manchester's prestigious graduate workshops — marking a strong step forward for Malaysia as a key destination on the global education map.
With international learning at the heart of the programme, the MBA is comprised of thematic courses that reflect current geopolitical and economic affairs across the globe. Additionally, faculty members and instructors are flown in directly from The University of Manchester's main campus in the UK.
Students will take their core courses in global business and management in Malaysia, with the freedom of choosing between more than 20 specialist electives that can be studied overseas at any of the university's Global Centres in Manchester, Dubai, Hong Kong, Shanghai, or Singapore. To further support students during their studies abroad, the programme provides complimentary hotel accommodation for six nights while studying at any of these centres.
The cross-continental exposure of the MBA programme is made possible by The Manchester Method, a proprietary experiential learning approach that incorporates blended on-site and online learning with hands-on workshop residentials and live projects. The 'block' course structure also provides the added option of an accelerated 18-month pathway.
Flexible and portable by nature, the Manchester Global MBA Programme is primed to cater to a diverse class profile — many of whom hold senior positions in organisations spanning over 15 industries, namely manufacturing, finance, consulting, medical, and technology.
"Malaysia was a natural choice for the expansion of our programme, as the diversity in culture here reflects the diversity of experience that is imperative for all leaders to succeed," shares Lim Bee Ing, Regional Director of The University of Manchester (South East Asia) Centre. "The University of Manchester takes great pride in the richness of knowledge and management skills that our graduates bring to the table. Our student cohorts globally represent over 90 nationalities and join an illustrious line of C-suite industry leaders and 25 Nobel Prize winners, a testament to our track record of research excellence."
Producing globally influenced, locally inclined talent
Since its establishment, the Manchester Global MBA Programme has already made inroads with honing talent in the local professional business community. Among its Malaysian alumni is Dafinah Hilmi, current Chief Executive Officer of Hong Leong Islamic Bank Berhad.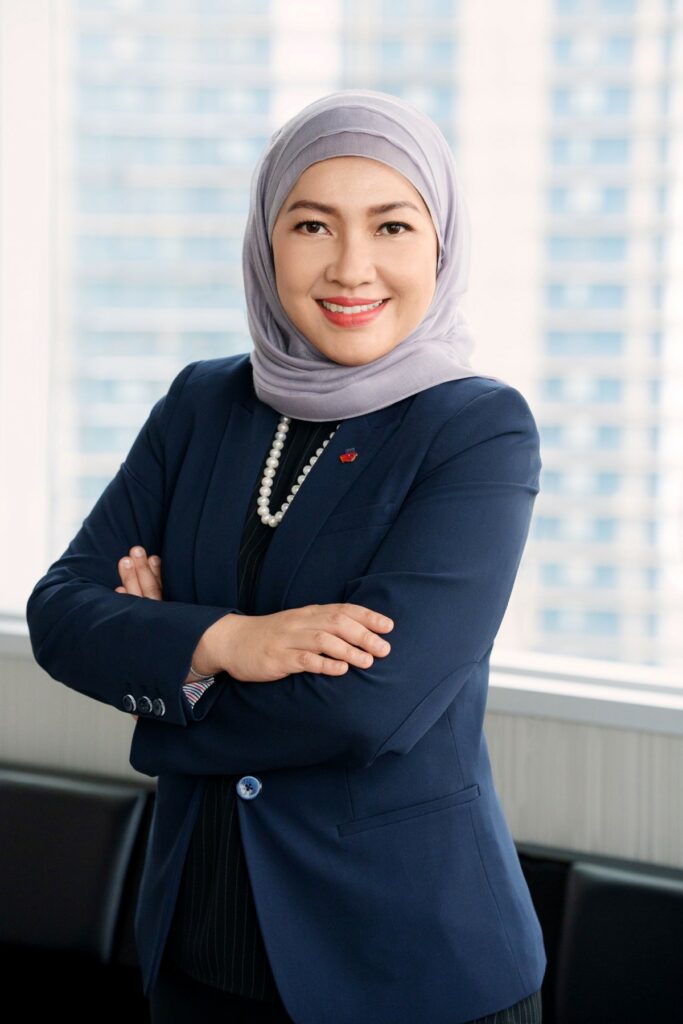 A graduate of the class of 2021, Dafinah completed her MBA at the height of the COVID-19 pandemic. Rising through the ranks from lead positions in trade sales and commercial banking to CEO, she attributes her sharpened skill sets to the blended learning model of the programme, which allowed her to gain the same global perspective and exposure to international peers despite travel constraints at the time.
"The Manchester experience was so inclusive and people-centric — having to adapt to such a dynamic cohort of colleagues across different time zones and nationalities really grew both my personal resilience and professional communication skills. As the MBA is designed to give graduates the exact same experience across the Global Centres and workshop locations, it was pivotal in broadening my business network and professional connections even across continents," Dafinah says.
Graduates of the Manchester Global MBA Programme will join an illustrious alumni network that spans 500,000 students from almost 200 countries. Its inaugural July 2023 Malaysian cohort includes prominent local industry professionals, namely Dr. Ng Kuo Chern, Resident Medical Officer at Asia's largest private healthcare group IHH Healthcare, as well as Dr. Nadiah Salwi Hudi, Principal Engineer (Senior Manager) at Tenaga Nasional Berhad.
Intakes for the Manchester Global MBA Programme are in January and July every year. For more information and to register for personalised 1-on-1 consultations, please visit manchester.edu.sg/manchester-global-mba.