As the world becomes increasingly defined by uncertainty, being able to correctly identify business problems and formulate winning competitive advantages in an ambiguous environment is a crucial real-world skill.
On the Manchester Global MBA programme, our highly-rated and future-ready electives, Advanced Strategic Management and International Business Strategy focuses on the future with the theme: 'How to add value, innovate, grow, build new business models?' This is especially important as businesses are forced to rapidly innovate and adapt in order to survive and thrive in a post-pandemic economy.
Organised around 5 managerial mindests, the Advanced Strategic Management (ASM) elective that is delivered on a 5-day face-to-face workshop aims to arm students with the knowledge and skills on how to systematically and rigorously analyse the competitive and ever-changing business landscape, formulate winning business strategies for the company, develop new and innovate business models, and to effectively implement these strategies and models to ensure long-term business success.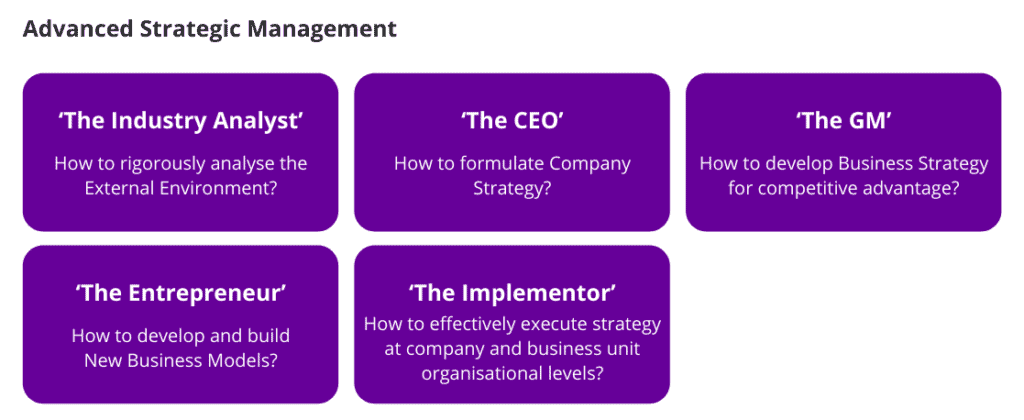 On the International Business Strategy (IBS) elective, students are able to attend a 3-day face-to-face workshop at the Singapore Centre where the course aims to familiarise students with strategic aspects and concepts of managing a multinational corporation (MNC) in an international context. 
IBS is an interdisciplinary course that combines aspects of strategic management, international economics, comparative political economy, cross-cultural psychology, management, marketing and other disciplines that broadly impinge on the practical decision-making challenges international managers face.
The course includes 4 parts namely:

After completing these four aspects, students will be able to critically explore and analyse alternative way of understanding and responding to strategic economic, financial, technological and managerial issues facing global MNCs.
The knowledge and skills acquired on these electives are hugely transferrable and relevant to almost every industry, giving you greater competitive advantage within the job markets.
Apart from ASM and IBS, students can choose from a wide range of 20+ electives across 8 business management specialisms to meet their personal interests and/or professional ambitions.